Selbst der verregnete und kühle Sommer – der diesen Namen anno 2016 bislang überhaupt nicht verdient hat – kann das Engagement von Maik und Martin nicht stoppen.
Auch im Juli liefern die beiden gewohnt ausgewählt und handverlesen die besten Clips aus dem Netz ab und haben dabei gleich einen neuen Rekord aufgestellt.
Satte 69 unterschiedliche Filmchen haben es in die Win-Compilation Juli 2016 geschafft.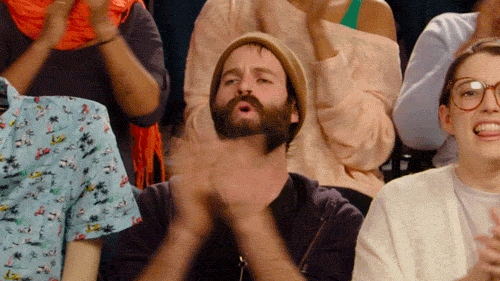 Deshalb heißt es jetzt auch nur noch:
Applaus, Applaus, Applaus und Vorhang auf!

Und wie immer gibt es hier alle 69 Videos in voller Länge zu sehen:
01. Irish fans sing lullabies to French baby on Bordeaux train
02. A vacuum cleaner meets a harmonica in japan
03. Epic Water Bottle Flips | How Ridiculous
04. ROOMBA PONG
05. Ambiguous Cylinder Illusion
06. Advanced Tricks – A Song of Ice and Fire
07. Elephants Drink Pool Water
08. His 2D/3D Latte Art Skills Are Over 9000!
09. Maggie Sneezing
10. Ludovico Einaudi – "Elegy for the Arctic" – Official Live (Greenpeace)
11. Kid Hilariously Trolls ESPN Broadcast During TCU-Coastal Carolina CWS Game
12. Rooftop Chinese Pole | Damien Walters
13. Talking bird activates Siri on the iPhone by saying "Hey Siri"
14. THE KITE INCIDENT! – June 19, 2016 – ItsJudysLife Vlogs
15. WATCH: Woman's incredible reflexes, Waitress stops mug from smashing on floor, Spain
16. The Wolf – Fine Art Bodypainting by Johannes Stötter
17. A World First – pulling a tooth using a LIVE SQUIRREL!
18. Andante
19. Crazy Chinese Yoyo/Diabolo Tricks
20. Bruce Lee's action by Ryusei 6year old (part 1)
21. Van Gogh on Dark Water Animation
22. My dog standing and walking in the pool!
23. Ringo the baby rhino and friend
24. Tell me again why you don't blow out the candles?
25. Mildly Interesting Parallel Simultaneous Plane Landing
26. ROSIE DOG IN FIELD BOUNCING
27. Fastest time to pop 100 balloons by a dog – Guinness World Records
28. Beautiful teamwork by a raccoon mother and her babies
29. 5000 shot Firework Deathstar
30. How To Make A SHARK CAKE! Chomp down on CHOCOLATE CAKE for SHARK WEEK!
31. Cute Kitten Escapes Cage to Play With Puppy
32. Magician Denis Lock performs bubble blowing skills | LIVE London Palladium 2016
33. World's LARGEST NERF GUN!!
34. How To Make 1 Yen Coins Float On Water
35. "I'm forever blowing bubbles"
36. Most skateboard rail flip to rail in one minute – Guinness World Records
37. Zach Gowen at the Indianapolis Qualifier – American Ninja Warrior 2016
38. How to pay a speeding ticket. #ResistTheft
39. Teamwork dog rescue in Kazakhstan
40. Akinori Goto at Spiral Independent Creators Festival 2016
41. Amazing Badminton Skills
42. Bird bounces golf ball on the cart path!
43. Bottle Boys – Epic Movie Themes (LIVE)
44. Black bear Takoda cools down
45. Crazy Performance! Street Musician Playing Water Glasses! Epic Talented Street Artists…
46. Dog and Squirrel Play Chase Around a Tree
47. Ernie Els dunks his approach for eagle at Quicken Loans
48. Fan grabs foul ball while holding his child
49. Fiesta the Llama LOVES our Leaf Blower
50. Golf Ball Pops Cork on Champagne
51. Hairless Dancing Nathan dances to the Beer Barrel Polka
52. HOLDING AN EXPLOSION at 20,000 fps – Smarter Every Day 156
53. Hey bear.
54. Juggler Alexander Koblikov Performs
55. headbanging
56. Referee eats a big punch
57. NehNehNeh
58. Pogo Freestyle! World's Best Pogo Tricks!!!
59. Rabbit gives guy a makeover (things you don't see everyday…)
60. Remote Controlled Beer Crate
61. Tony Hawk Lands 900 At 48!
62. Unbelievable Table Tennis Roller Shot
63. Watch this pregnant woman twerk her eyes like you've never seen before
64. Shiba inu Chiko watching YouTube
65. "Go home to your sexy wives" Ireland vs Sweden (France 2016)
66. What does a cow say?
67. Stupid Human Gum Trick Letterman – Where is She Now
68. Norwegian Swimmer Demonstrates Skills Backwards (Storyful, Crazy)
69. Swedish and Irish fans sing ABBA together #RESPECT
Wie nützlich findest Du diesen Beitrag?
Bitte klicke auf einen Stern.
Durchschnittliche Bewertung: / 5. Anzahl Bewertungen:
Bislang keine Bewertung erhalten. Sei der Erste, der den Beitrag bewertet.